To return an item(s) please login to your account and navigate to 'Your Account Page > Orders'. Click the Return Item(s) button beside the complete order that is to be returned.

The Return Item(s) from Order # is displayed from which you should complete the following:
Quantity to return - dropdown list allows selecting the number of items to be returned.
Return Reason - dropdown list allows selecting the reason for requesting a return.
Return Action - dropdown list allows selecting the required return action to take. For example, exchange or refund
Condition of product - dropdown list to select condition of item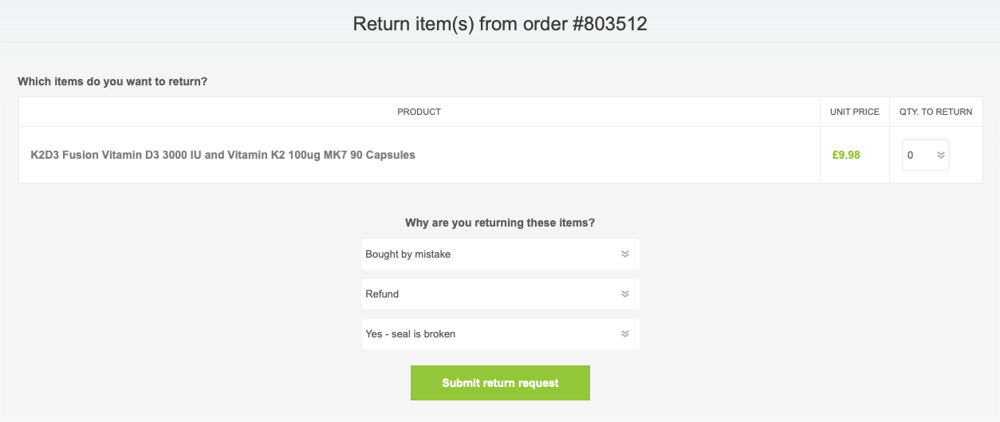 After completing the return request form you will be sent an email giving instructions on how to return your item(s). The email will include details of your order number, your RMA (returns authorisation) number and how to create a free tracked Royal Mail return label.If you do not receive this email please check your SPAM/Junk folder. Failing that you can get the RMA number from the 'Return Request' section of your online account.
You can return your item by creating a returns label on the Royal Mail website here - https://www.royalmail.com/track-my-return/pick-a-retailer. Search for retailer 'Troo Health Care Ltd' and input the details for your return into the form. You will need your RMA number and your order number. A prepaid return label will be generated and you can send your item(s) back to us at your post office by free tracked mail.
Once your return is received we will strive to process it within 24 hours.